Egypt 7 Day Itinerary

Once you decide to plan Your bucket list trip to Egypt, You need to make your itinerary. As first-time visitors have tons of unanswered questions. Our goal is to answer as much as we can of your questions and to share our 7 Day Egypt itinerary so you can plan a similar trip or make adjustments to travel for 5, 8 or even 10 days.
How Long Do You Need For a Trip to Egypt?

Depending on the amount of time you have, you can choose your cities and attractions. If you are planning to see Egypt in 7 days, we recommend choosing Luxor over Aswan because Luxor has so many important ancient Egyptian monuments. But it's so much better to plan at least a one week Egypt itinerary. you can do Cairo 2 nights,2 Aswan- and 2 nights, Luxor
3 days – Just go to Cairo with a possible day trip to Alexandria.
5 days – You can and should add Luxor. The amount of temples and attractions they have is unparalleled.
7 or 8 days – Add Aswan or a 3 day Nile River cruise that includes Luxor and Aswan to your Egypt itinerary. With a guided tour or cruise, you will have an easier time visiting the sites in between like Edfu and Kom Ombo Temple.
10 days – Add a resort in Hurghada, Sharm El Sheikh or Dahab to enjoy Egypt beaches and the Red Sea diving.
Is Egypt Safe?
This was the number one question we got. You will feel 100% safe on our entire trip. After the January revolution in 2011 and the ensuing rule of the Muslim Brotherhood (short as it may have been) tourist numbers dropped much.
Luckily, the political situation stabilized in the following years. after the Egyptian Army got the power back in 2013. Egypt has last years a significant increase in tourism.
You can look up the current Egypt Travel Advisory and talk to other people who had been in Egypt recently. From that research, You will feel pretty good about the choice to go and made your plans.
You can use World Nomads travel insurance. If You need to cancel Your trip, we are totally covered.
Getting to Egypt

Almost every person entering Egypt will fly into or through Cairo. If you are continuing to another destination, you will go through customs in Cairo first. If you are doing a combined trip with Egypt/Jordan or Egypt/Israel, the fastest way to get to Egypt is flying from Amman or Tel Aviv. Some people take a ferry and a bus from Dahab.
Best Time to Visit Egypt
Egypt can be very hot or temperate. Make sure you plan your Egypt Itinerary for a time that is comfortable for you.
High Season is December – February and has the best weather. Daytime temperatures are in the 70-80s but nights can get chilly 50-60s. You can expect more crowds and higher prices overall.
Shoulder Season is October – November and March – April. The weather is warm to hot. Cairo is typically in the high 80s and Luxor in the high 90s. At this time of year, you will sightsee in the morning and late afternoon, taking break midday. March and April see some sandstorms but they aren't supposed to be that bad.
Low Season is the end of May – September. It is extremely hot and the weather exacerbates the pollution in Cairo.The Prices will be very low at this time
Egyptian Visa & Money
Egypt offers Visa on arrival to many countries. That means you can show up at Cairo airport and purchase your visa to enter the country. If you decide to do that, bring 25 USD. with you to pay at the window, BEFORE you get in the customs line. You need to have exact change. You can get your Egypt Visa in advance here. If you are taking a tour, they will probably coordinate your Visa for you.
The currency is Egyptian pounds. You will need cash. ATMs are easily accessible but there is a limit on how much you can withdraw so we ended up at the ATM 3 times in 7 days.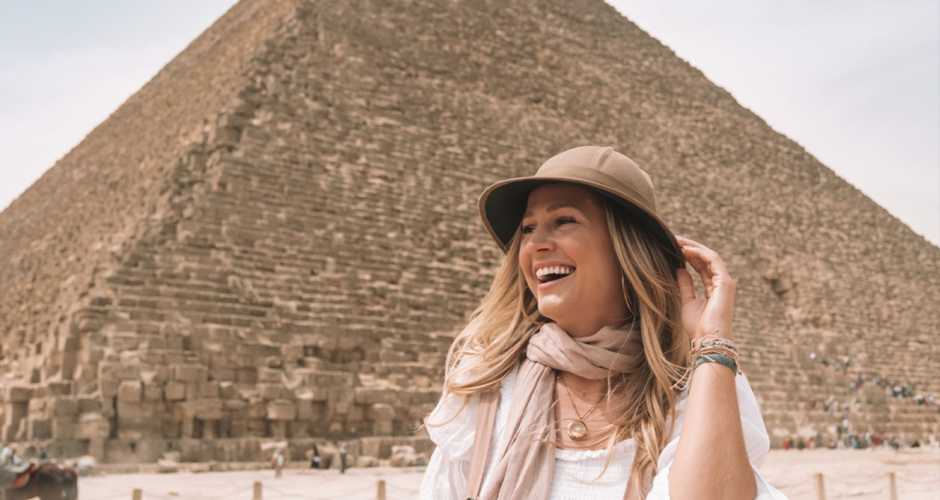 Egypt 7 Day Itinerary
Day 1, 2.
You Can Spend in 2 Nights in Cairo - one night upon your arrival then You Can visit the Pyramids of Giza and the Egyptian museum you Can take the late flight to Aswan, We recommend to stay two nights in Aswan in order to see Abu Simbel temples and Aswan attractions, Like Phila temple, The Nubian Village.
Cairo- & Giza
Egypt is the place to enjoy amazing hotels which suits all Travelers budget. TheLe Meridien Pyramids Hotel & Spa is such a treat. The Hotel is simply amazing. It had amazing rooms overlooking the great pyramids. we do recommend this Hotel. It is very close to the Giza Pyramids and the Grand Egyptian Museum.
1-The Pyramids of Giza
Pyramids of Giza is the Highlight of Your 7 Days in Egypt Itinerary This is probably the biggest draw for everyone to Egypt and it doesn't disappoint. The Pyramids of Giza are spectacular. They are so big that you can see them from multiple points around the city. Up close, it is mind-blowing that they exist. The largest of the 3 pyramids, Khufu is made up of more than 2.5 million blocks of limestone and Granite, each weighing approximately 5,000 pounds. It's hard to imagine that the blocks got there and they were stacked up to 455 feet tall.. The Sphinx is in the same complex. There is a line to go on the viewing platform up close to the Sphinx or you can easily see it a little further back without waiting.
Day 2- 3-4
We do recommend 2 Nights in Aswan in order to visit Abu Simbel from Aswan on one day trip by car. Abu Simbel is located 280 K.m South of Aswan, in the Afternoon you can make a sailing trip with Felucca and Visit the Nubian Village, one the second day you Can visit the High Dam, The temple Phiala and the unfinished obelisk, and take the first-class train to Luxor. Or drive to Luxor from Aswan( The distance is 220 k.m)You will see an amazing part of Egypt and how the Egyptian in upper Egypt live along the river Nile.
Where Can i stay in Aswan?
Aswan has an international airport, This airport is 40 minutes from the City. In Aswan, there are many hotels to stay in. You can stay in Luxury hotels Like Sofitel Legend Old Cataract if your budget allows you. Or one of 4 stars Hotels Like Basma Hotel. But we do recommend to stay in Nubian style Hotels in the Nubian village, Like Katodool
Abu simble temples
You can do a full-day trip from Aswan to go see the Great Temple of Ramses II and the Temple of Queen Nefertari. The UNESCO World Heritage site is completely worth it. Like the Philae Temple Complex, the Abu Simbel Temple was moved block by block to a new location after it was flooded by the building of the Aswan High Dam.
These temples are a feat of engineering, which you will find to be the case all over Egypt. Somehow, the temple was constructed to have the sunshine through the entrance to illuminate the statue of King Ramses II only on February 22 and October 22, to mark his coronation and birthday. The visitor count and entrance fee are higher on those days.
The Nubian Village
See a Nubian Village, The Nubian Village is colourful, fun, friendly and touristy. The trip starts with an enjoyable Nile cruise. Many people go at sunset for the obvious reason that they want a sunset cruise on the Nile. If you time it properly and get your sunset part of the cruise on the way back,
The temple of Phila
Built to honour the goddess Isis, this was the last temple built in the classical Egyptian style. Construction began around 690 BC, and it was one of the last outposts where the goddess has worshipped .the most interesting thing about Philae Temple is that it had to be relocated block by block to a new island after the building of the Aswan High Dam. The island where it was originally built completely flooded and there was a UNESCO project to save the Philae Temple Complex. What a massive undertaking.
Luxor
Days 4-5,6
How to Get There: 3-hour train from Aswan or a guided tour
Amount of days:2 days and 2 nights.
Luxor, the ancient city of Thebes was the capital of Egypt from the 15th-11th centuries BC. Often referred to as the worlds largest open-air museum, this city is filled to the brim with important sightseeing. The thing that struck me most was the massive size of everything. These temples were built by various rulers to honour the gods.
Where you Can stay in Luxor?
In Luxor, there are many hotels to stay in. You can stay in Luxury hotels Sofitel Winter Palace Luxor if your budget allows you. Or one of 5 stars Hotels Like Nile Palace Luxor, Or Sonesta St George Luxor
Karnak Temple "Must See"
Karnak is more than A temple, is a spectacular Complex of Sanctuaries, Kiosks, Pylons and Obelisks, All dedicated to the Theban gods and to the Greater Glory of Egypt`s Pharaohs, Karnak was the Most Important place for the worship of the Theban Triad(Amun, Mut, and Khonso)
The valley of the kings
You Have to See the Impressive Tombs at Valley of the Kingdome of the things in Egypt are hard to wrap your mind around and Valley of the Kings is certainly one of them. It is an unimpressive looking, mountainous area filled with 63 tombs from kings and royals during the 16th to 11th centuries BC, a veritable who's who of the most important Egyptian men. The tombs were filled with valuable antiquities and decorated extensively with beautiful inscriptions and art.
With your entry fee, you are able to choose 3 tombs to explore. It's highly recommended to visit the first thing or the last few hours of the day to miss the busloads of people. Hours vary by season. Opens at 6 AM and closes at 4 PM
The temple of Queen Hatshepsut
The temple built for Queen Hatshepsut, one of the first female Egyptian pharaohs, looks vastly different from everything else in Luxor. She went to great lengths to be remembered and her mortuary temple is bigger than all of the other tombs in the Valley of the Kings. She had a successful reign and was responsible for building many important structures in Luxor. If you plan to visit, read more about her story because it will make it more interesting for you.
Colossi of Memnon
These 2 huge stone statues are easily seen from the road on the way to Valley of the Kings. They seem completely out of place and random where they are but they used to be set at the entrance of an impressive temple. Tourists swarm them in the morning. If you want to get up close, do it at the end of your West Bank sightseeing and it will be empty. Or just see them from the road if you prefer.
Luxor temple
Largely built by the New Kingdom Pharaoh Amenhotep the Third and Completed by King Tutankhamon and the Great King Ramses the second, The First pylon was raised by Ramses the second and Decorated with His Military Battle of Kadesh Walking around in this historical spot alone was magical. Many people like to save their visit to the light show at night.
Old Cairo and the Old Bazaar
Day -7
You Can Enjoy Day tour in old Cairo and Moez street of streets the historic Khan El Khalili Bazaar. for shopping,
We recommend visiting the Citadel of Saladin.
Saladin Citadel, constructed by Salah al-Din on the Moqattam Hills in 1183 AD as a defence against Crusader armies. Known for its fresh air and sweeping views of Cairo, it is now a preserved historic site of mosques and museums, including the Mosque of Muhammad Ali Pasha
Designed by the Turkish architect Yousif Boushnaq, who came to Cairo especially from Istanbul to build the great building, the mosque's alabaster structure stands in beautiful contrast to the sandstone city.
visit Old Cairo to see major attractions such as the Hanging Church, the Ben Ezra Synagogue, the Church of St. Barbara, and the Church of Abu Serga, one of the oldest Coptic churches in Cairo
Continue to the Khan el-Khalili Bazaar, one of the oldest bazaars in the Middle East. Discover a maze of alleys that have been at the centre of Cairo 's trading activities since the 14th century. After an amazing trip, You will be picked up to Cairo airport for the international departure